After reminiscing with my classmates, this past weekend at my alma mater's homecoming, I reflected on the times spent as the DJ played jam after jam, catapulting me to periods of my life where I came to fall in love with music.
The love affair began at an early age.
1985.
Mama Sharon used to always have the radio on, blaring smooth grooves from Marvin Gaye, Anita Baker, Peabo Bryson, etc.; mumbling off-key (because she never could remember the lyrics) but having the time of her life. She looked so at peace, smile as big as the Grand Canyon. She made me appreciate it.
Slick Willie used to warble too.
(Yep, my dad can blow a little ditty - let him tell it, he was the next Ron Isley). Whatever came on, he'd sing it and do it well with his own little twist. I always admired that and in the mirror, I mimicked whatever he did, adding new dance moves. He made me love it.
Back then, I was lil' Michael Jackson, forced to sing Billie Jean for company as they smiled and chuckled at the exuberance I exuded as I moonwalked across the room. (The Big Bro usually just sat back and laughed at my expense.) I even rocked the glove, complete with white socks and black shoes. After I tired of dancing, my older relatives would pinch my cheeks until they were sore and I would run off -- and turn on the radio.
1988.
Cousin Toya's Birthday Party.
In my crazy uncle Leroy's basement, I quietly sat in the corner, acting shy (as usual) as Keith Sweat's - How Deep is Your Love was playing in the background. Toya's best friend and neighbor from across the street, grabbed me and told me to get up and dance with her. I quickly tried to remember the dance steps from the artist I saw on Friday Night Videos and proceeded to try and not embarrass myself. Slowly bopping from side to side with my hands around her hips, I noticed she was looking at me funny. Did I have something on my face? Some nose treasure, perhaps? All of sudden, heaven hit me in the form of aggressive lips... and I realized I was kissing. It's a shame how much saliva ended up on that poor girl's face from my juicy mouf-ded-ness.
It seems like everywhere I went, music was right there at my side. For every adventure, for every heartache, for every triumph - there was an accompanying melody. You see, every time something eventful happened, there was some sort of musical verification.
Boyz II Men's End of the Road seem to play at every graduation and the O'Jays would make every family reunion feel that much warmer when they sang - in the boombox positioned next to the domino table at the forest preserves. I remember Mama Sharon walking down the aisle to Luther's Here and Now; looking like the queen she is as Pops looked on with pride.
As the tears fell from my cheeks as I carried my best friend's casket to its final resting place, I could the strained sound of It's So Hard to Say Goodbye. The nervousness creeps back in as I remember the stage fright we overcame as we sung Can You Stand The Rain for the senior talent show. My hormones hit overdrive as I reminsce about sitting in the back seat of my mother's mini-van, grabbing body parts to Mya's It's All About Me.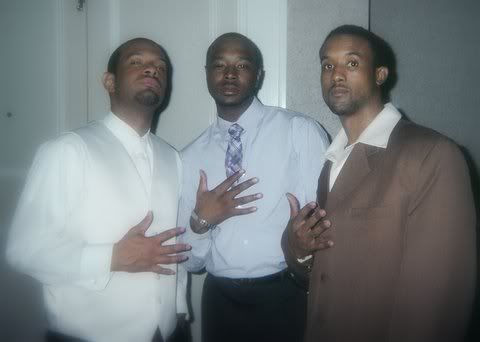 At Fisk, my classmates strutted down the yard to Outkast's SpottieOttieDopalicious and the Greeks crossed through to Strafe's Set It Off. The Fab 5's anthem senior year was Jay-Z's Girls, Girls, Girls - but make no mistake about it, we were dealing with grown women.
There are so many lasting memories of the times I've had with music. It's in my heart, my soul, my mind - and it will be there until the end of time.
I leave you with my own life soundtrack.
Opening Credits:
Common - Be
Waking Up:
Talib Kweli - Good Mourning
Average Day:
Queen Latifah - Just Another Day
First Date:
Kem - Love Calls
Falling In Love:
Dru Hill - Beauty
Love Scene:
Maxwell - Submerge
Fight Scene:
Crucial Conflict - Showdown
Breaking Up:
Stevie Wonder - Rocket Love
Getting Back Together:
Method Man - Break Ups 2 Make Ups
Secret Love:
Zhané - Crush/Maroon 5 - Secret
Life's Okay:
Clipse - I'm Good
Mental Breakdown:
Grandmaster Flash - The Message
Driving:
William DeVaughn - Be Thankful
Learning A Lesson:
Mos Def - Umi Says
Deep Thought:
Sade - Keep Looking
Flashback:
Kanye West - Everything I Am
Partying:
Big Gipp - Steppin' Out
Happy Dance
: Michael Jackson - Don't Stop Til You Get Enough
Regretting:
Hi-Five - Never Should've Let You Go
Long Night Alone:
Theophilus London - Cold Pillow
Death Scene:
Scarface - Smile
Closing Credits:
Little Brother - Leave It All Behind
Smart Guy Soundtrack: My Life
What's yours?
Tell me how music has left an imprint on your life. I'm definitely looking forward to seeing your responses.
That's it for me for today. Have a happy Thanksgiving!