DSXXX: Interview with The Mizell Brothers + Red Bull Music Academy Pix
DJ Rahdu is back again with this week's hotness.

Erykah Badu; Roy Hargrove - Think Twice
Mint Condition - Whoa
India.Arie - Little Things
Donald Byrd - Wind Parade

Larry Mizell Interview Pt.1
Marvin Gaye - Where Are We Going?
Main Source - Looking at the Front Door

Larry & Rod Mizell Interview Pt.2
Bobbi Humphrey - Blacks & Blues
Eric B & Rakim - Keep the Beat
Grenique - You Say
Amel Larrieux - Weather
Jill Scott; Mos Def - Love Rain (Remix)
Boozoo Bajou - Take it Slow
Eric Benet - Why (The Roots Remix)
Minnie Riperton - Take A Little Trip
Pete Rock & CL Smooth - Places and Spaces
Donald Byrd - Places and Spaces
Donnie - Cloud 9(DJ Spinna Remix)
Common - The Light
Common; Kanye West - They Say
Foreign Exchange - Happiness
Digable Planets - Blowing Down
Bobbi Humphrey - Jasper Country Man
Five Point Plan - Solid Ground
Dwele - A Pimp's Dream
Remy Shand - Everlasting
fly - Gray Sky
Van Hunt - Your Love
Raheem Devaughn - Guess Who Loves You More
Nuwamaba - When Words Are Spoken
Eric Roberson - Softest Lips
Erykah Badu - Time's a Wastin'
Johnny Hammond - Cant We Smile



Click To Download or Right Click And Hit Save As
ALBUM OF THE WEEK
Ayah - The Problem Woman Mixtape


"In a day when alot of people are looking for a light in the music tunnel… one shines really bright… Ayah has given me new found faith that soul music is very much alive… " DJ Jazzy Jeff

Mixing jazz influenced vocal inflections with hip-hop swagger and b-girl next door charm, Toronto songstress Ayah delivers an infectious summer mixtape that, if heard by enough ears, should put her on the radar of hip-hop heads and R&B fly girls alike. Serving as a prelude to her upcoming album, The Problem Woman Mixtape successfully introduces listeners to Ayah as an artist and a person, giving us a bounty of breezy, summer gems to heat up our pool side playlists, as well as some intimate insights into where she came from, and where she hopes to go via her music.

My Personal Picks.
Real Woman
I Reminisce
Fallen

BUMP OR DUMP?
Bump it. If Jazzy Jeff can co-sign for her, you know she's spottie-ottie dopalicious. Do yourself a favor and download this to hear Toronto's best kept secret. Although once you listen, it wont be a secret anymore.

Tracklisting and joints after the jump.



TRACKLIST
AyahLude: Who is Ayah?
Don't Mess With Me
Real Woman
AyahLude: Is Ayah a Problem?
Find My Way
Pusha Man 2008 (Feat. Tona)
AyahLude: Problems and Outcomes
Feelin It (Feat. NickelusF)
Passing Me By 2008 (Feat. Skyzoo)
AyahLude: Ayahs Roots
I Reminisce
I Play It Cool
AyahLude: Who Inspires Ayah
Hey Young World
AyahLude: What's To Come
Changes (Snippet)
AyahLude: Art and Performance
So Wrong (Bonus)
Believe (Bonus)
Fallen (Bonus)

ENJOY!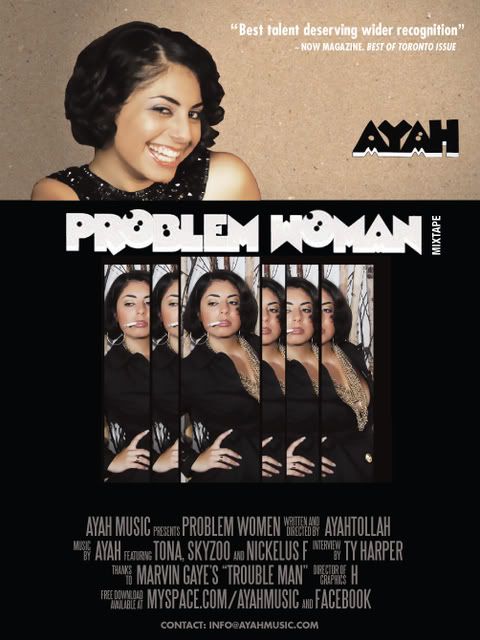 Click To Download