BLS Podcast: A Brief History of Amel
DJ Rahdu sits down with Amel Larrieux and spins a few of her greatest gems... check it out!

Click To Download or Right Click And Hit Save As
ALBUM OF THE WEEK
Jaspects - Broadcating The Definition

Being born during the hip-hop movement, Jaspects integrates youthfulness with the maturity of the jazz language. With interest being the progression of music, the group hopes to serve as a bridge between the two genres and utilize both art forms for the purpose of innovation and not imitation.

Hip-hop/r&b/jazz featuring Scar and Janelle Monae...
Definitely a nice listen...

TRACKLIST
1 Intro
2 2 Kool 4 Earth
3 A Chance 2 Shine
4 Next Stop, MLK
5 Let's Just Keep In Touch (feat. Scar)
6 Peachtree Blues (feat. Janelle Monae)
7 One/Sixth
8 Is She...? (feat. DJ)
9 My Sincerity (feat. Promise)
10 Throw Yo J's Up! (feat. Iyana)
11 Music Was My First Love (feat.The Truth)
12 Walking Bayou (...under the pale moonlight)
13 Interlude
14 That's All I Wanna Say (feat. Terrence Cotton)
15 Outro


ENJOY!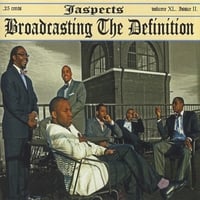 Click To Download